Do you have a camera enthusiast on your Christmas list? If you are buying major presents or just a stocking stuffer for the shutterbug on your list you are going to want to pay close attention to my list. Now I'm not going to go for the heavy hitting 20+ megapixel bodies and premier prime glass that all us photographers lust after when we look at the back of the magazines, or the "camera porn" websites. Lenses that cost thousands of dollars and DSLRs that cost many times more than my first car. Here are ten things that anybody watching life play out through a viewfinder or in a 3" LCD screen could appreciate and use.
1- Cleaning cloths. I never have enough of these. Microfiber is the best. I tend to lose them, or drop them on the ground, after which, I throw them away rather than risk picking up a piece of grit and scratching the front element of my beloved Nikkor 24-70 f2.8.
I always pack several along with a small bottle of lens cleaning solution and a bulb blower. Another thought is a small pack of disposable cloths, like Kimwipes. $1.00 to $15.00
2- As an alternative to cloths, you can pick up a Lenspen. This little gem is a great thing to have in your bag.
It has a brush on one end for flicking off dust and pieces of leaf and dirt, and a carbon fiber pad on the other end. You clean the lens in a circular motion and you will be amazed how crystal clear things get. Pick one up for less than 10 bucks and the photographer on your list will love you forever. Less than $10
3- Memory cards. You will need to do a little research on this one. Find out if the photographer on your list uses SD, XD, Compact Flash, or XQD. Most consumer DSLR cameras use the standard SD card and you can pick up a 32 Gigabyte card for less than $50.00
4- A remote control. This is something that every person with a tripod should have. I have several different remotes but the little wireless infrared button works the best of all. It's not perfect but at less than $20, it is a no-brainer for time exposures, self portraits, anywhere you don't want camera shake and just plain fun and ease of use when taking pictures of kids and pets. I got mine at Best Buy and they sell them for all brands of cameras. $20 to $30
5- A Lens Cup. You can't beat this for just plain fun. It's just what it sounds like, a thermal drinking cup that looks just like a camera lens. Available all over the web now, a search of Amazon brings up hundreds. This one was given to me by my daughter.
You should see the look on peoples faces the first time you pull the top off and pour a coca-cola into it and take a sip. Priceless.
A
bout $20.00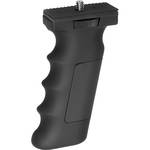 6-
I love the BARSKA ACCU-Grip Camera Handle Pistol Grip. It is a convenient handle for stable camera operation. The pistol-style grip features finger grooves for ergonomic operation. This accessory is fantastic for children or anybody with small or weak hands, and works especially well for shooting video. it has a standard 1/4"-20 stud as well as a retractable video pin on its top surface, for sturdy attachment to any camera or small camcorder. There's also a 1/4"-20 thread at the bottom of the handle, which allows you to attach your mounted camera to a tripod or head. $15.00
7- Velcro straps. You will find hundreds of uses for these things. I use them to wrap up cords of all kinds, and hang things from my camera bag.
I have used them to secure a backdrop on a windy day and hold a dog's collar together on a pet portrait shoot. $4.00 to $20.00
8- Sto-Fen diffuser. One of these will change the way you shoot portraits
forever. Forget harsh direct flash and don't worry about finding a wall or ceiling to bounce off of. Just slip this small piece of translucent plastic over your speedlight and start shooting. They even come in colors. The Sto-Fen brand costs about $25.00 but there are knockoffs out there for a fifth of that.
9-
Ever been caught in the rain while out shooting?
If you haven't just wait, it will happen. When it does, you will love the person that gave you this 2-pack of
plastic rain sleeves
.
These are by Op/Tech. About $6.00
10- Don't just toss your spare memory cards into your camera bag, or stuff
them in your pocket. (come on, you know you've done it) Give the photographer on your list a couple of these, or by some for yourself. About $5.00
11- I know I said there were ten but this one is a bonus and it just may be the most fun on the list.
For less than 20 bucks you can put your small compact
point and shoot or small video camera on this little extender and get above the crowd. Take your video to a new level. It retracts to just 9 inches and fits in your pocket. With this little gem, you are sure to get the best videos of the concert, political rally, or Wal-Mart black Friday shopping incident and you'll be the envy of all your Facebook friends. About $20
Christmas is about giving and if a photographer is on your list, you can give with confidence, and not spend too much money by picking something off this list for them.
E-mail with questions, comments, additions to the list, or random thoughts:
keith@keithlewisphoto.com
Visit my website: keithlewisphoto.com
Like us on Facebook:
facebook.com/KeithLewisPhotography
Follow me on Twitter:
https://twitter.com/KeithLewisPhoto
Find me on Thumbtack